Quick Overview
OptinMonster is a lead-generation plugin for WordPress that allows you to easily create and integrate highly effective optin forms on your website. It integrates with all major email service providers, and it comes with powerful features such as page-level targeting, A/B split testing, and exit-intent technology. It joined the competitive premium email optin form plugin market in 2013.
OptinMonster is the best lead-generation plugin for WordPress that allows you to create attention grabbing optin forms that convert.
Other features of the initial version of this optin form plugin included:
Lightbox, Footer Bar, and Slide In forms
Multiple form design templates
Add custom HTML and CSS to forms
Create unlimited forms for different posts on your site
Impression and conversion stats for each form
Clone forms for instant A/B testing
Exit intent to only show popups as visitors are about to leave
Integration with all major email marketing services
User friendly native WordPress user interface
Over 70% of visitors who abandon your website will never return. OptinMonster exit-intent technology keeps your marketing dollars from going to waste.
Check the video from official OptinMonster.
In short: the developers of OptinMonster went to great lengths to try and include just about everything you could ever need in order to start creating powerful optin signup forms for your email list.
Since its release, it's been mentioned on almost every wordpress news or reviews site. Besides that it has been used on many big wordpress sites, a few I can come up with in seconds like wpbeginner.com,
New features in 2014
To reward early adopters and keep the plugin competitive, the developers of OptinMonster haven't been resting on their laurels, instead, they've been hard at work adding some great new features – including:
More form types (blank, sidebar, and in-content/after post)
More form appearance themes
Canvas add-on for creating 100% custom forms
Insert forms into content with shortcodes
Add animation effects to forms as they load
Manual optin trigger (launch form from mouse click)
Optimized code for fast loading times
Test mode for previewing the forms
As mentioned in the above feature list, the plugin launched with three types of optin forms. However, since the initial launch back in 2013, the developers have now added even more options to the list of popup form types which currently stands at as many as six signup form types.
The list now includes the following selection of popup forms:
Lightbox Popup
Canvas Popup (new)
Footer Bar
After Post Widget (new)
Sidebar Widget (new)
Slide in
The new options are certainly welcome additions. Particularly, the in-content form, which a form type that was a notable absence from the initial selection of forms.
It's not just new ways of displaying the forms that have been added though, OptinMonster also now includes more themes for customizing the appearance of those signup forms.
Additionally, there's also a selection of new effects available as an add-on – which can be applied to the form whilst it's being displayed in order to help catch the attention of your visitors.
Setting up the new forms is just as easy as it's always been with this very intuitive plugin – with the clean interface and well-labelled options-and-settings pages making creating and customizing the forms very straightforward.
The new Canvas Addon
While the plugin does come with a small but impressive selection of themes for styling and basing your form designs on, the new Canvas add-on form type gives you the option of also starting from a completely blank canvas.
Canvas is a dream come true for all DIY users and developers. It allows you to create completely custom popups in WordPress by simply inserting your own HTML and CSS while enjoying the page-level targeting, A/B testing, exit-intent, cookie configuration, and everything else that you have come to love about OptinMonster.
This addon allows us to truly extend OptinMonster and add integrations with eCommerce plugins, social plugins, and basically anything else that you like.
Below are quick examples of what you can create with Canvas: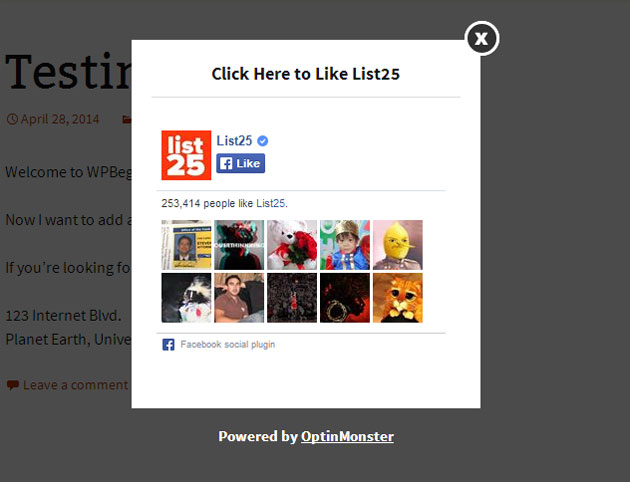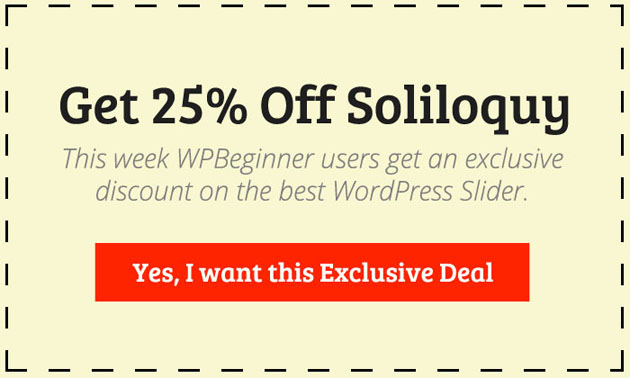 This means that you're no longer limited to just creating and displaying sign up forms with OptinMonster. Now you can also insert other content into the popup window such as your social media buttons, links to other content on your site, or anything else you think will be of interest to you readers!
Before saving your custom optin popup form created using the Canvas add-on, you can choose from one of the 26 optional effects that can be used to display the form.
Amongst the list of options you now get access to are bounce, flash, wobble, flip, rotate, and slide effects – all of which can be used to really make sure that your forms are noticed as they come into view. Note: these effects can also be applied to the other lightbox forms – in addition to the Canvas forms.
While Canvas Addon is a Pro level addon. If you have a Pro or Ultimate account of OptinMonster, then you will see this added on the addon's screen. If you are on Basic or Plus package, then I highly recommend you to upgrade.
New After Post Optin Forms
Thanks to the individual page targeting abilities of OptinMonster, you can choose exactly which posts, pages, or categories your popups are displayed on – and when a popup form might not be the best choice, you can easily choose to display the new After Post optin forms instead, providing a suitable alternative to the standard popup forms.
While you don't get all the advanced features of the form editor when creating these in-content forms that you do with the popup forms (such as being able to add images), you can still customize their appearance for maximum conversions using the intuitive design customizer.
Once you've created the in-content, after-post form, you have the following output options for displaying it to your readers:
Automatically add after each post
Add manually to posts and pages using shortcode
This means that even if your visitors close the popup form, or they don't trigger it using the exit intent technology, you can still give them the option of signing up via these in-content forms.
While this type of form can only be automatically inserted into posts, and not pages, the shortcode option can be used to insert it manually into pages on your site. The shortcode approach can also be used to display these forms mid-way through a post, rather than just at the end which is another really useful feature for increasing email signups.
OptinMonster is now Mobile Friendly
Mobile-friendly popups were the single most requested feature by its users. And we are happy to see  the new mobile addon has been added in v2.0. It now allows you to create a simple form for mobile users while keeping your powerful and elaborate forms for tablet and desktop users.
Why you wouldn't use it?
The only reason I can come up with is that your blog doesn't need subscribers and customers.
Summary
The developers haven't been lazy to improve OptinMonster over past year. It's now more powerful and customizable with new features especially like Canvas form and After Post form. You can now display any content  you want in the optin window in addition to just email optin forms.
In short, if you don't have time, budget and technical knowledge to configure various optin-forms while still want to make your blog a lead machine, OptinMonster still remains as the best email-optin form plugin available!
[box type="download" size="large" style="rounded" border="full"]Turn your website visitors into Subscribers and Customers.
Get OptinMonster Now
[/box]
Find out more about OptinMonster on the Official OptinMonster Website.
They are now running a "Fire Sale" featuring 35% OFF all OptinMonster plans for Back Friday.
Use the coupon code BF2014 to claim the offer. Don't forget that they even provide a No-Question-Asked 14-day Money Back Guarantee.
This Fire Sale will start on November 24th and will go until December 1st Midnight – Eastern Standard Time.
OptinMonster Review
Features

Ease of Use

Pricing

Support
Summary
While the exit intent behaviour trigger that helped this tool stand out from the crowd has been adopted by other similar optin form plugins, the new features, existing features, and continued ease of use mean that OptinMonster arguably remains about the best email-optin form plugin available!